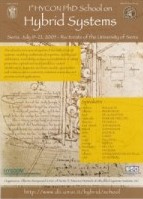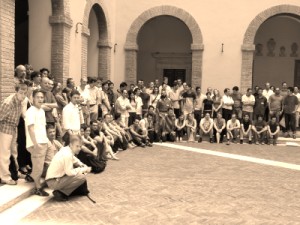 Selected researchers lectured at the 1st HYCON PhD School on Hybrid Systems on different topics of hybrid systems, including modeling, mathematical properties, stability and stabilization, reachability analysis and verification of safety properties, optimal and model predictive control, identification, diagnosis, stochastic models, quantization and communication constraints, and the use of hybrid tools in industrial automotive and process control applications.
The school was targeted at graduate students and researchers who wanted to learn the main concepts of hybrid systems, as well as at graduate students and postgraduate researchers already working in the field of hybrid systems.
The school was partially supported financially by the European Community through the Network of Excellence "HYCON - Hybrid Control: Taming Heterogeneity and Complexity of Networked Embedded Systems" (6th Framework program) and by the University of Siena.

The school was co-organized by the Technical Committee on Hybrid Systems of the IEEE Control Systems Society.